Picasso
Who is Picasso?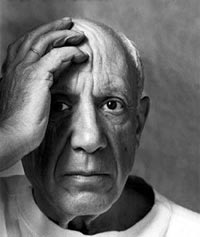 Pablo Ruiz Picasso was born October 25, 1881 in Malaga, Spain, and by the time he died in France in April of 1973, had created a staggering 22,000 works of art in a variety of mediums, including sculpture, ceramics, mosaics, stage design and graphic arts.
Picasso demonstrated uncanny artistic talent in his early years, painting in a realistic manner through his childhood and adolescence. During the first decade of the twentieth century his style changed as he experimented with different theories, techniques, and ideas. Picasso's creativity manifested itself in numerous mediums, including oil paintings, sculptures, drawings, and architecture.
His claim to fame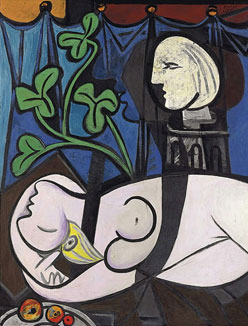 Picasso became one of the greatest and most influential artists of the 20th century and the creator (with Georges Braque) of Cubism.
Among his most famous works are the proto-Cubist Les Demoiselles d'Avignon (1907) and Guernica (1937), his portrayal of the German bombing of Guernica during the Spanish Civil War.
His revolutionary artistic accomplishments brought him universal renown and immense fortunes throughout his life, making him the best-known figure in twentieth century art.
Several paintings by Picasso rank among the most expensive paintings in the world. Some of his paintings sold are:
Garçon à la pipe - $104 million at Sotheby's, 4 May 2004
Dora Maar au Chat - $95.2 million at Sotheby's, 3 May 2006
Nude, Green Leaves and Bust - $106.5 million at Christie's, 4 May 2010
As of 2004, Picasso remains the top ranked artist (based on sales of his works at auctions) according to the Art Market Trends report. More of his paintings have been stolen than those by any other artist; the Art Loss Register has 550 of his works listed as missing.